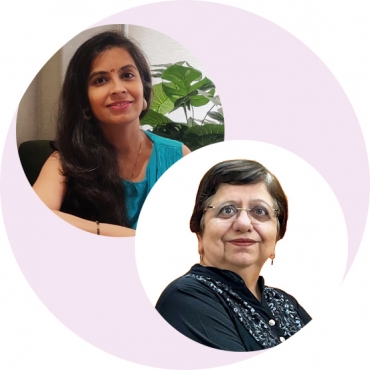 Author of this book Khushi A.Hinduja,a mother of two Supa - Kids, is a certified DMIT Consultant 'n' Life Skill Coach For Children. She started her journey as a counsellor in the year 2015. Since then, she has been invited as a guest speaker at various events. She was interviewed by Pragat Maharashtra News Channel. Her articles on DMIT have been published in various E-Magazines. She conducts webinars on various parenting topics. She is a Mastermind Leader in TLC Community. She was awarded Guiding Mentor Title for parents and children. She is on a mission to spread happiness (Khushi) in the life of parents and children and she feels truely blessed to impact more than thousands of families.
Mani Mistry Elavia fondly known as Grandma Mani is a certified parenting coach and a life skills trainer for children. She is on a mission to enable maximum number of parents, teachers and caregivers to create an enriching and supportive environment for children to succeed in life and confidently face the challenges of this volatile world.

She has rich experience of working with children of varying age, class, academic background and gender. Her coaching has helped parents and caregivers experience a striking shift from high level of frustration to high sense of fulfilment.

Her life skills training for children are designed to help them grow up as confident adults with a scientific mind, a humane heart and positive outlook.

She succeeded in bringing about 360 degree change in the attitude of children in a child care institute by introducing positive parenting practices. This change has sustained even years after children have moved out of the institute.
Books of Khushi Hinduja & Mani Mistry Elavia