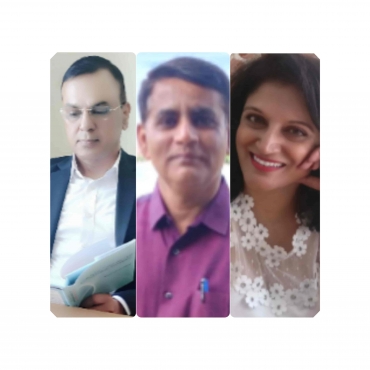 Dr. Makarand Upadhyaya is currently an Associate Professor, Department of Management and Marketing, College of Business Administration, University of Bahrain, Bahrain. He earned his Ph.D. from the University of Rajasthan, Jaipur, in 2010. He also holds an MBA, PGDPM and PGDCA from Vikram University, Ujjain. He has more than 25 years of combined experience in industry and academia. Widely travelled around the globe, he was awarded the Faculty Distinguished Scholarship Award in 2007 by the Research Council, India. His areas of research fall within the domains of consumer behaviour and strategic board leadership. He also chairs and is a member of various committees and advisory boards.


Dr. Binod Mishra, Professor of English at IIT Roorkee, a Ph. D on the works of Mulk Raj Anand, has served as a faculty in various reputed institutions and contributed academically in many national and international journals and conferences. Starting his career in 1995 from Majuli of Assam, he worked at BITS Pilani, Rajasthan for more than six years before switching over to IIT Roorkee, Uttarakhand in 2007. He has published 21 books (16 edited and 05 authored) on various aspects of English language and literature. One of his books entitled Communication Skills for Engineers and Scientists, (6th reprint, published from Prentice Hall, India) is used as a textbook and reference book in many reputed colleges and universities. He is also credited with two poetry collections, namely Silent Steps and Other Poems (2011) and Multiple Waves (2017). He has supervised 09 PhDs and presently 16 more are working under him. Besides books, Prof. Mishra has published more than 100 papers, 80 poems and 21 book reviews in esteemed journals.


Ms. Saveeta Pawar is working with Hindustan Construction Company Ltd. a well-known Infrastructure Company Ltd. in India. (HCC is a business group of global scale developing and building responsible infrastructure through next practices. With an engineering heritage of nearly 100 years, HCC has executed a majority of India's landmark infrastructure projects, having constructed 27% of India's Hydro Power generation and 60% of India's Nuclear Power generation capacities, over 3,900 lane km of Expressways and Highways, more than 350 km of complex Tunnelling and 382 Bridges. Today, HCC Ltd. serves the infrastructure sectors of Transportation, Power and Water.) She has graduated in commerce from University of Mumbai and Masters in Business Administration – Marketing.