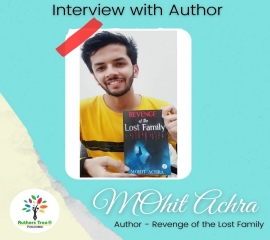 Interview with Author Mohit Achra : Authors Tree Publishing
Presenting the wonderful interview of Mohit Achra, The author of "Revenge of The Lost Family" by Priya S (Authors Tree Publishing)....✍️
Priya S : When did you first realize you wanted to be a writer?
Mohit Achra : It was at the age of 9 that I discovered my interest in writing stories. I had always been fascinated by tales of magic and mystery, and it had intrigued me to write some of my own. That was the first time I wrote something, later on when I read "Great Expectations "by Charles Dickens, I realized that I could read such bulky novels, too! It is still my favorite novel, and that was when I dreamt of being a writer for the first time. It was at the age of 11.
Priya S : How long does it take you to write a book?
Mohit Achra : Till now I have worked on four books, and two of them have been published already! One thing that I've learned along the process is that writing a book should never be done hastily. I personally give a great amount of time to brainstorming, plot outlining, character descriptions, and the final writing process. Editing takes a considerable amount too. It took me around 7 months to write my latest book, "Revenge of the lost family, "and a couple of months to edit it, too.
Priya S : What is your work schedule like when you're writing?
Mohit Achra : I try to write every day because consistency is the key to finishing such huge targets. Writing is a major part of my everyday schedule and I do it twice a day for 2 hours!
Priya S : How do books get published?
Mohit Achra : The publishing process in our country runs on two alternatives. The traditional and self-publishing paths respectively. Self-publishing has made it easier for everyone to bring out their books before an eager audience. I hugely recommend that to every new author.
Priya S : Where do you get information or ideas about your book?
Mohit Achra : Well, quite interestingly, when we talk about ideas, they are born out of our minds. My book ideas often hit me up when I'm dreaming, when I'm not in control of what will be happening next in my dreams, that is where I get my story ideas. It's like all my thoughts and perceptions are born out of my subconscious mind, brought into light when I sleep. Then I try to combine it with my imagination and creativity so that things can make proper sense and form up a grueling tale!
Priya S : When did you write your first book and how old were you?
Mohit Achra : I started writing my first book when I was 14 years old, again, I had the beginning idea of the story in a dream. It was basically a fantasy genre book that I had decided to write because the fantasy genre has always been my favorite. Unfortunately, it could never get published and as the years passed I realized that my writing style and my skills needed much more improvement and direction, so I completed that book but I never went forward with the publishing process. After that, when I was 16, I began writing my second book and then I went for its publishing process and in November 2019, I self-published my first book that goes by the name of " Soul of the demon God " and it was published worldwide. So my first literary work to be published was Soul of the demon God but the first book that I wrote was something that has never reached the publishers' and has never reached the audience.
Priya S : What do you like to do when you're not writing?
Mohit Achra : I love to say this at all times that apart from being a writer, I am also a visual artist and entrepreneur. I take a great deal of pleasure in making portraits and paintings and putting my creativity to work on paper in a totally different way. I also founded my startup in 2019, " Artembryo " where we work towards the promotion and upliftment of the artists of our country. Besides this, I am really a fun-loving person, I like to go out with my friends, I like playing games outdoors and indoors, haha, I am a chess enthusiast, too!
Priya S : What does your family think about your writing?
Mohit Achra : One of the most important reasons why I am a published author today is my family support. My parents and my sister have always had my back and they have always believed in what I dreamt and what I wanted to achieve. Did you want me to become one of the greatest writers and I can always see them praying for my success whenever my books are releasing. My parents understand my dreams and that is the only reason I have come so far in the writing journey at such a young age.
Priya S : What was the most surprising thing you're learnt while creating your books?
Mohit Achra : Well as an author, writing a book is not the only thing that one must do to ensure that it becomes a bestseller. When someone is writing a book they also need to make sure that they do their marketing strategically and effectively because that is going to drive all your sales. As an amateur, I never understood that marketing is very important and there are so many different ways of promoting your book. There are thousands of authors out there who want to get their books into the right hands and there's a lot of competition amongst the writers that was the thing that surprised me the most when I was creating my books. I was astonished at the fact that there is so much competition and so many ways to market your book and it is so difficult to sell out yourself as a bestselling author amidst all this competition, but then again, that is the thing about writing. It is not just about writing the books, but also about putting yourself forward as an individual personality before your audience and convincing them why you are worth their time and money or why your work is worth buying.
Priya S : Do you have any suggestions to help anyone become a better writer? If so, what are they?
Mohit Achra : To everybody who is an amateur writer I'd like to say that the most important thing while writing your book is also having a habit to read the books in your genre. The best-selling books that you can find will be your best assets in your writing journey. Before you complete your book and put it out for the world to see, you must also learn all the ways of promoting and marketing your book and use them effectively. Because marketing is really important for you to stand out as an author. Many other authors will be your competitors, but to get ahead of everyone in your genre or your state, you must put a special focus on your marketing strategies.
Priya S : Do you hear from your readers much? What kinds of things do they say?
Mohit Achra : Well since the launch of my second novel, I have been listening from my readers quite a lot. They keep updating me about what they think about my characters or how the story would turn out in the end and they are excited about the end because I have tried to create a lot of suspense in my latest book, " Revenge of the Lost family ", and that is what keeps them going, so I have received a huge number of positive reviews from my readers of this book.
Priya S : Tell us something about your recently published book.
Mohit Achra : "Revenge of the Lost family " is basically a war of ideas between the people who fall into different classes of society. Through this thriller suspense book, I have tried to create an environment in which the readers can actually brainstorm along with the characters and decide for themselves what is right and what isn't.
This book describes the miserable fate of a family that falls into powerful and corrupt hands, and how do they react to it when they get a chance at revenge. On the other arc, the story revolves around a detective who is in Los Angeles to solve a mystery of a series of murders taken place in the city.
In the end, this book will make you question the faulty statuses of our world, and its impact on the poor who are exploited by the rich and powerful.
----------------------------------------------------------------------------
Here you can buy "Revenge of The Lost Family" by Author Mohit Achra.
Click the given below icons and grab your own copy now :