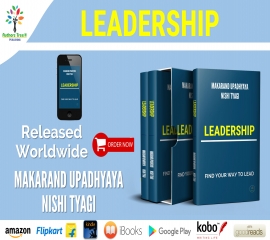 Leadership - Find Your Way To Lead Book Released Worldwide by Makarand Upadhyaya and Nishi Tyagi , Publisher : Authors Tree Publishing.
Leaders in every field are making the world a better place to live. People with strong faith in themselves have the ability to make the change. Even though there are 18 types of leadership behaviours, every leader has a core aim to complete their vision.
The leadership style of a person depends on the field of work, followers, circumstances, and, of course, the changing world. Technology, lifestyle, and needs of the world drastically change every year. Hence, the path towards the goal might also upgrade.
Staying productive and positive in a changing environment should be your mission to be a good leader. Half of the 18 leadership styles swing towards people-oriented characteristics and the remaining half has process-oriented traits. While some leaders prefer to be open and inviting, the other leaders believe in dedicated rules. It depends on you and how you want to make changes in the world. Find your leadership style, learn new things, and make your ideas worth sharing with the world. Stories of 18 popular leaders in this book make one thing certain, you can teach yourself to be a leader. To go somewhere, you have to start first.
The world needs more amazing leaders. Leaders can even make impossible things happen with their charm and focus. The world also needs more followers. Followers work hard to prove themselves. Some of these followers develop the potential to become a future leader. You could be the new leader, but first, you have to have a strong mission, vision, and trust in your abilities.
Leaders and followers together are the backbone of the developing world.