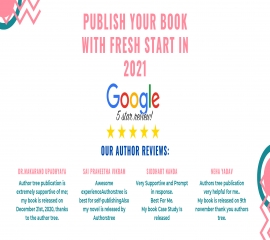 Authors Tree Publishing is providing such good facilities that every writer wants to publish a book from Authors Tree Publishing.
That is why every new and published author is going towards the authors tree publishing for book publishing.
That is why every new and old base is going towards the Authors tree for book publishing, all the authors who have published the book from this book publishing house are giving all five-star rating on Google
Authors Tree Publishing has impressed every writer in a very short time.
You can find books by Authors Tree Publishing House on the big channels like Amazon Flipkart on the Indian level and an international level.
Authors Tree Publishing House Books Releases Above All Channels Like Apple Books, Google Play Store, Google Books, Kindle, Kobo etc.