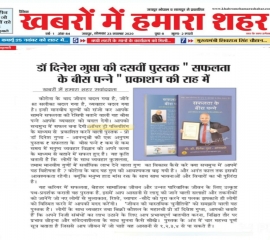 लिम्का बुक ऑफ़ रिकॉर्ड में दर्ज नाम - प्रो डॉ दिनेश गुप्ता - आनन्द्श्री की एक अनुपम पुस्तक " सफलता के बीस पन्ने " कम से कम समय में मनुष्य व्यवहार विज्ञान को अपने कला के माध्यम से बताने में सफल हुए है। यह कृति बताती है कि लोगों के साथ व्यवहार कुशलता तमाम मानवीय गुणों में सर्वाधिक लाभ देने वाला गुण का विकास कैसे करे I
क्या सचमुच में आपमें यह विशेषता है ? कोरोना के बाद यह गुण की आवश्यकता बढ़ गयी है। और अनंत काल तक इसकी आवश्यकता रहेगी। क्यूंकि मनुष्य हाड मांस रक्त के साथ साथ भावनाओं और विचारों का भी पुलिंदा है।
यह करियर में सफलता, बेहतर सामाजिक जीवन और उन्नत पारिवारिक जीवन के लिए उत्कृष्ट पथ-प्रदर्शक कराती यह पुस्तक है. इसमें आप आसानी से लागू की जाने वाली सलाहों और तकनीकों को जानेंगे जो नए लोगों से मुलाक़ात, रिश्ते, व्यापार -सौदे को पूरा करने या पलक झपकाते ही लोगों को विस्मित करने में आपकी मदद करेंगी। 'जीवन की वास्तविक चुनौतियों' को समझाने वाली यह पुस्तक है।
लोगों के साथ व्यवहार तथा बिक्री कौशल के महारथी प्रो डॉ दिवेश गुप्ता, आपको बताते हैं कि अपने निजी संबंधों का लाभ उठाने के लिए आप प्रभावपूर्ण बातचीत करना, निश्चित तौर पर प्रभाव छोड़ना और संवेदनशीलता के साथ सुनना कैसे सीखे। पुस्तक के अंत में चार महत्त्व पूर्ण सूत्र बताता है जिससे आप जीवन में जो चाहे वह आसानी से १,२,३,४ से पा सकते है।
Authors Tree is an Organization, who provides all essentials services which are used in book publishing in India. Our aim is that the author who writes his first book should go ahead in this literature world and establish a new place. Like a tree, with the help of its root, brings the leaves forming the stem and the flowers in it become edible fruits. We are one of the Emerging book publishers in India Through international platforms like Goodreads, Amazon Kindle, Google Play Books, Kobo and Ingram we help our Writers to get worldwide recognition. We allow all different languages and genres for publishing in the recent past, AUTHORS TREE stands as one of the fastest-growing self-publishing platforms in India. Apart from publishing books in English and Hindi, we also publish books in Bengali, Gujrati, Tamil, Telugu, Punjabi, Malayalam, Marathi and other regional languages. Books published through print on demand platform of Authors Tree Publishing never go out-of-print. Print on Demand Self-Publishing is a new model for book publishing; Authors Tree Publishing provides you the complete benefit of this trend for a lifetime.
Self-publishing is the publication of media by its author without the involvement of an established publisher. The term usually refers to written media, such as books and magazines, either as an ebook or as a physical copy using POD (print on demand) technology. It may also apply to albums, pamphlets, brochures, video content, and zines.
In the traditional publishing model, the publisher bears all the costs and risks of publication but retains most of the profit if the book is successful. In self-publishing, the author bears all the costs and risks but earns a higher share of the profit per sale.
The $1 billion markets of self-publishing have transformed in the past two decades with new technologies providing increasing alternatives to traditional publishing. Self-publishing is increasingly becoming the first choice for writers. Most self-published books sell very few copies. Those which sell large numbers are newsworthy because they are so rare. The quality of self-published works varies considerably because there are no barriers to publication and no quality control.
Tags : authors tree publishing , authors tree publishing India , authors tree publishing in India , self publish book self publishing in India , publish a book , self publishing , how to publish my book online , publish book in India , online publish , online publishing book in India , authors tree , authors tree book publisher , book publishers in India , best book publisher in India, self publishing in India for my book