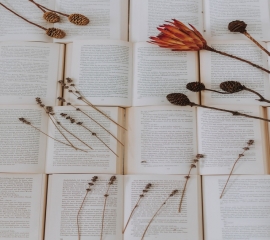 A book is a medium for recording information in the form of writing or images, typically composed of many pages (made of papyrus, parchment, vellum, or paper) bound together and protected by a cover. The technical term for this physical arrangement is codex (plural, codices). In the history of hand-held physical supports for extended written compositions or records, the codex replaces its immediate predecessor, the scroll. A single sheet in a codex is a leaf, and each side of a leaf is a page.
As an intellectual object, a book is prototypically a composition of such great length that it takes a considerable investment of time to compose and a still considerable, though not so extensive, investment of time to read. This sense of book has a restricted and unrestricted sense. In the restricted sense, a book is a self-sufficient section or part of a longer composition, a usage that reflects the fact that, in antiquity, long works had to be written on several scrolls, and each scroll had to be identified by the book it contained. So, for instance, each part of Aristotle's Physics is called a book. In the unrestricted sense, a book is a compositional whole of which such sections, whether called books or chapters or parts, are parts.
Publish your Book today!
We are here to answer any questions you may have our company experiences. reach out to us and we'll respond as soon we can. fill out the queries form.
Why
Should I Self-Publish?
Self-publishing empowers YOU to turn your manuscript whether in Hindi or in English, into a book without being dependent on the whims and fancies of a traditional publishing and distribution. You will be known as an author, the reason you were writing in the first place. It allows you to share the product of your creativity, your book, with the world.
What
Can I Self-Publish?
Books on all topics and categories: fiction, nonfiction, poetry, management, technical, self-help, reference. Biographies and autobiographies, Coffee table books, Booklets, Novellas, Academic books, Training manuals, Product manuals. You can publish a book in Hindi or English
How

Do I Self-Publish?
Click on the packages page, study each package for its offerings, select one that suits your requirements, choose the add-on plans that you would like to take and tell us about it. We will guide you from that stage onwards. If you are looking for specifications or services that are not part of our standard package, write to us and tell us about it through the Contact Us page.
Tags : authors tree publishing , authors tree publishing India , authors tree publishing in India , self publish book self publishing in India , publish a book , self publishing , how to publish my book online , publish book in India , online publish , online publishing book in India , authors tree , authors tree book publisher , book publishers in India , best book publisher in India, self publishing in India for my book