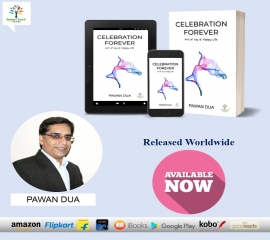 Recently launched book, by author - Pawan Dua, is being heavily sold on Amazon stores.
This is the second book published by author in last one year, which is gaining good response from readers. A book shares practical experiences of life, with ups and downs. It connects readers with their own journey of life and see the world through different prisms that helps to see the facts with varied perceptions.
Pawan is a humble, compassionate and energetic human. Born and raised in Delhi-NCR. He is a great integrator, who loves to connect, collaborate and build healthy relationships with everyone. His goal is to find happiness and joy within and spread around. He firmly believes that you can share something with others only if you possess it.
Book nicely covers importance of each moment, joy & happiness in life. Author has emphasised that people, things and situations will not always be favourable, but we must learn the art of living happily without creating regrets. We are running directionless, without clarity and objectivity of goals. We must stop repenting on what we could have done better in the past, but devote all time on how we can live now and build a beautiful world ahead.
Authors has emphasised that world is full of infinite possibilities, but we are afraid of taking risks and thereby demeaning the purpose of life. Life is a beautiful gift of God and we are gorgeous gift to the world. Yet, we live in cages, where doors are open, but minds are shut, and we fear to fly.
Ultimately goal of our most endeavours is to be happy. Achieving happiness is the highest level of success in life. It is a journey of transforming "Pieces of Minds" to "Peace of Mind". However, human greed to possess power, position, and prestige has surpassed all priorities, values & responsibilities. We are anxious and aloof in the thick of densely populated world. Instead of finding peace of mind, we have made pieces of mind, where every strand of mind is unsettled. True exuberance depends upon our own mind-set, heart-set and soul-set. It is possible when we build an equilibrium among our intelligence, emotions, work, and life. We are amidst the mud but to blossom like a lotus.
Author has not forgotten to cover the importance of trust and relationships. It is brought out that communication is inversely proportional to the level of trust for healthy relationships. In present times, our relationships are weakening and worsening and there is need to build strong and healthy relationships and to regain the trust. Otherwise, we cannot enjoy this life, regardless of how rich, talented or powerful we are.
This book is a must read for all, regardless of the age-group, gender, profession, interests or beliefs.